close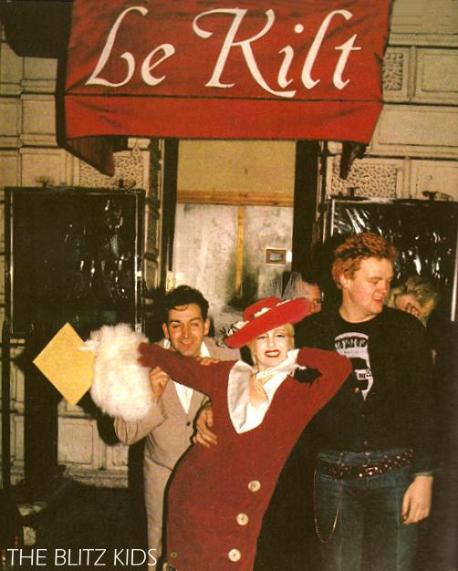 I know this isn't really "our" period but it's a nice picture isn't it?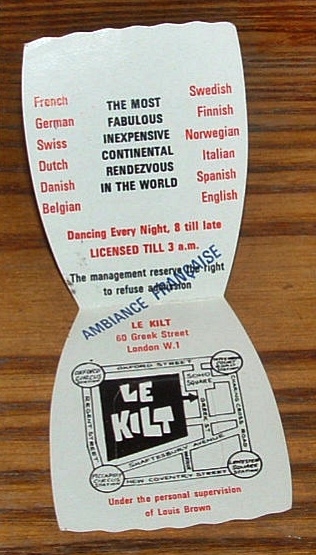 Remember when the West End was flooded with card fliers? Every club had their armies out to entice the tourists to just their establishment. The good, the bad and the indifferent. Some people managed to make a fair living out of distributing cards; namely Tony Smith and Massimo! This looks like an early one as it mentions Louis by name and with the original spelling - by 1969 he'd changed the spelling to Lewis if memory serves.
The picture was stolen from a seller on ebay - I told her about this site and this is her reply:
Hello Adrian - thank you for the information - its always interesting and useful to receive information about items. I did actually research it slightly on the internet before listing it and found this wonderful website full of photos from the club. As is often the case, I was intrigued and fascinated by the website and was quite distracted looking at all the fun pictures and information....I had to laugh, last night, as when I received your message I thought Id look at the website again to see if it was you...and yes it was!! and there was the picture of le kilt flier on my coffee table!!! No worries, it made me laugh and can I say what a wonderful website, very nostalgic and you all obviously had much fun then!! ONce again thank you for information, I will probably relist the item in the next few weeks,
kind regards, Avril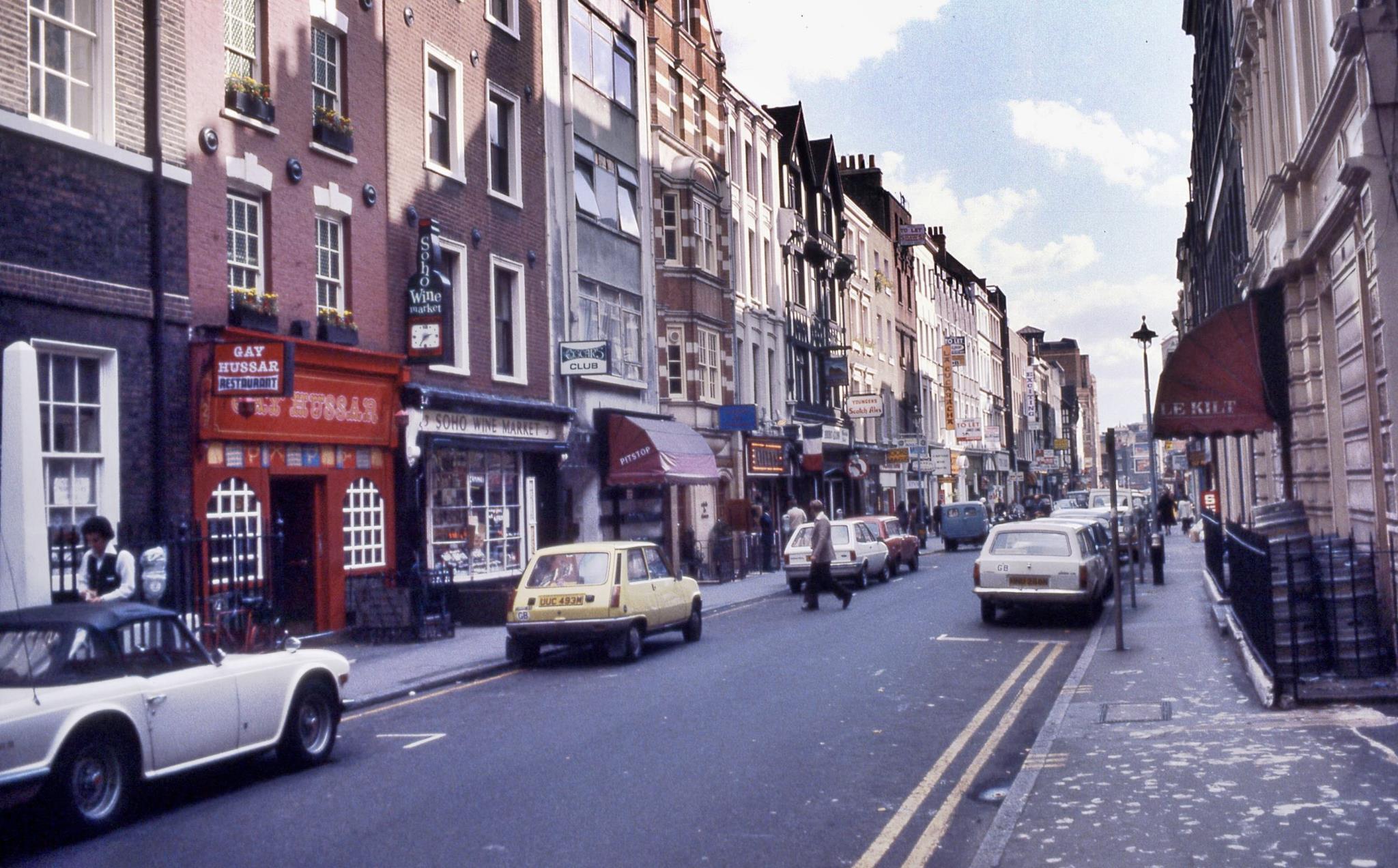 Charles has just dug up this photo from I think he said 1976. Ah memories!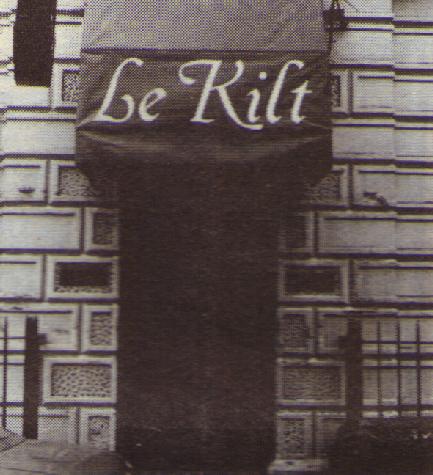 The club opened some time around 1962 I'd guess - I don't know if I ever knew. Louis Brown and Philip Cymberg proprietors. Lennie Bloom joined Louis later when Philip left the club business. The first manager was Joe (anyone know his surname?) who I think I saw once but when I started going there it was Martin [HUMABUM] with the Jaguar XK and I think already João assisting on the door. As far as I can remember the staff comprised of, in addition to the two already mentioned, Chris who was Martin's girlfriend and Vibbeke who alternated playing the records, Josianne in the cloakroom and ... I really don't remember. Just a minute! There was a French waitress, Christine I now recall.
I recalled wrong - it was of course Michèle, girlfriend of Dutch Paul (somebody explain that please!) and I'm told she drank herself to an early grave!
Henry, who later worked as chef at the Kilt and eventually barman at Samantha's, used to come every weekend and always give Josianne a piece of chewing gum - funny the things that stick in your head, isn't it? Plus the fact he was Mr Singapore, what, 1964?
What everyone remembers about the Kilt is not so much the Scottish theme as the stage coach that housed the sound system, turntables and the DJ, which was Didi for so many years that he became synonymous with the place. Theo reminds me he did some nights off which I'd forgotten - I'm sure there's so much more to be remembered
Can anyone help? Fanchon? She lived in Battersea with a friend of her family which if I remember correctly owned Hermès! Anyone else remember her? Alex(is) who had connections with Aphrodite's child and was a song writer? Lived in a small flat along Ladbroke Grove not far from Holland Park. What became of him and Francois from the Dog Shop on Portobello Road? Does anyone have any contact with Alain? Or Jacques?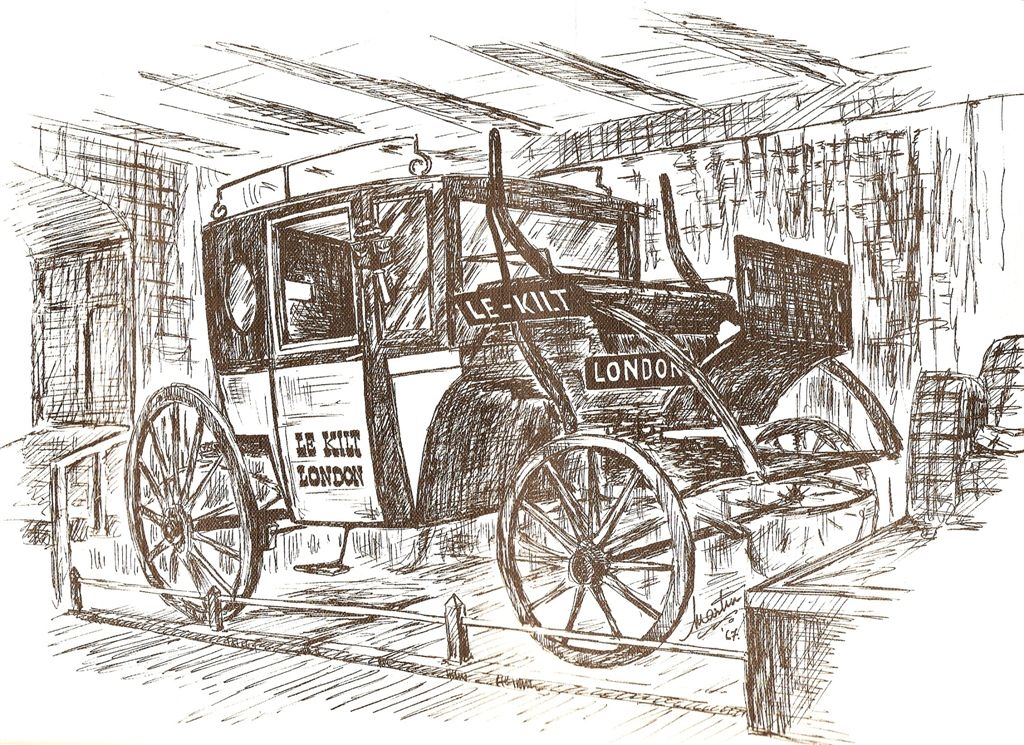 This is a pencil sketch of the famous coach which served as the DJ booth - which became an E-type Jag when the idea was transported to Samantha's. I was sent this by Polo le Belge who recently got in touch and was around 1966/67. Seeing this sketch rang a big bell and I'm not sure I don't remember Martin doing it. Yes it was done by Martin the manager! and I'm pretty sure it was used somewhere - placemats? handouts?. But it is good and a wonderful souvenir.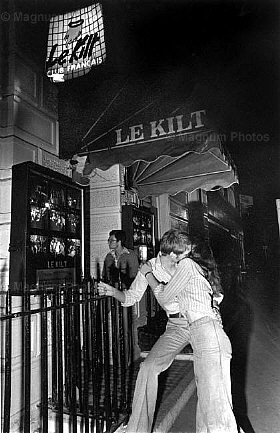 HUMABUM was Martin's phone number - hard to forget really - and I think the club was probably at it's best when he was manager. After him came quite a few more; Alain Féruch, Nino Leguey Saturnin, Gérard and several others whose names escape me at the moment. Claude Francois was in the main bar, followed by Daniel Montessui and even Gérard Laboisne stood there at some time. I worked the kitchen bar with Henry doing the cooking - except for the damned hotdogs and potato salad.
Remember João?
The club didn't have a proper late license originally but ran with an extended restaurant license which meant that alcohol could only be served with food. What we served was probably unpalatable although certainly edible but fortunately very few ever tried to eat it but it served its purpose. A certain Stéphane, loved of both Michèle and Karen, was in that small bar around 71 or so I think.
It was amazing they managed to squeeze in a roulette wheel (it was, wasn't it? not blackjack?) in that small space!
Paul Creeze was the first croupier and he was with, and finally married, Michèle. He went into partnership with Lucio from Les Enfants and opened the Pit Stop also on Dean St. Gary was on the door - he became a good friend of Didi - but where did he come from?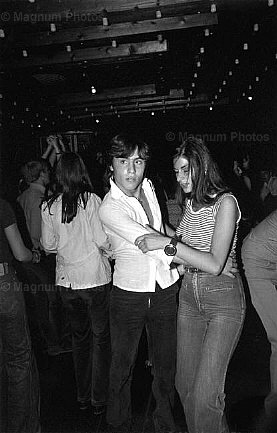 Before becoming manager of Le Kilt, Nino was a waiter at La Poubelle Mark III on Greek St. Nino, myself and a stranger called Serge were waiters at the newly opened La Poubelle. Albert Grintuch played the records, Claude Francois was on the bar and you know I can't for the life of me remember who the manager was! Following their successful Scottish theme from the Kilt clubs and the Scotch of St James, the tables and doors were brass, the walls tartan and our uniforms were tartan flares, frilly shirts with tartan waistcoats - horrid but they worked. That must have been, what 1969?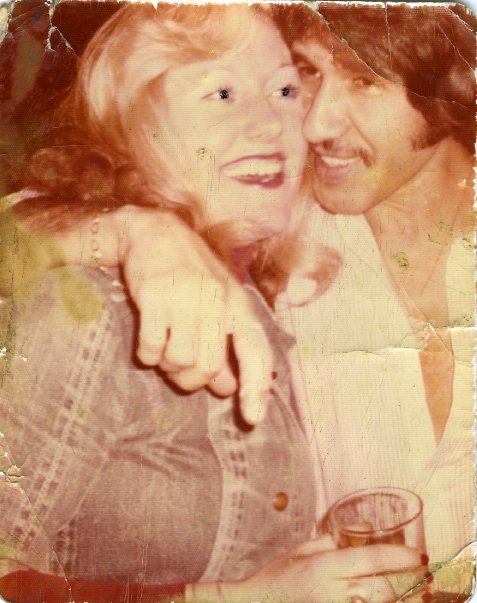 The building next door to the Kilt was a hostel for young dancers. Ann, Pippa and friends often came down to the club after days spent slaving over a hot bar. Obviously that couldn't last and was closed by the seventies.
There was a lift in the building which I think was by Nash. Not many people knew that, but the Coca Cola delivery man did because that's where the crates (yes, Coca Cola came in bottles) were stored and I remember being so proud of being able to carry a full crate in each hand. Fortunately not a lot of beer was sold because those kegs weighed a ton. Oh yes although the stuff was stored in the lift it didn't work - and in any case only served the upper floors, not the basement. So it was quite something to get those kegs down the stairs.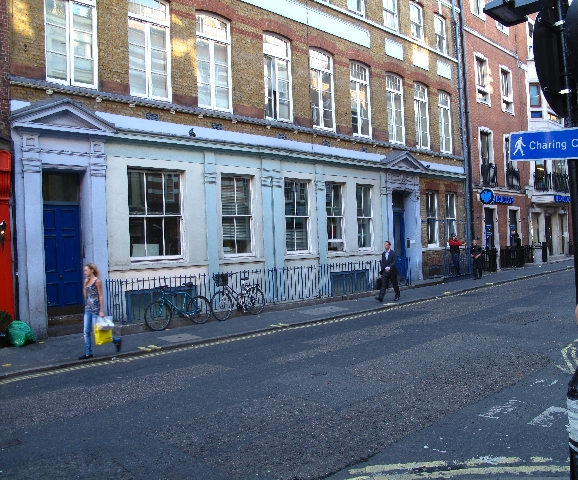 Now this should have been the Kilt, and would have been the Kilt - but...
...times change